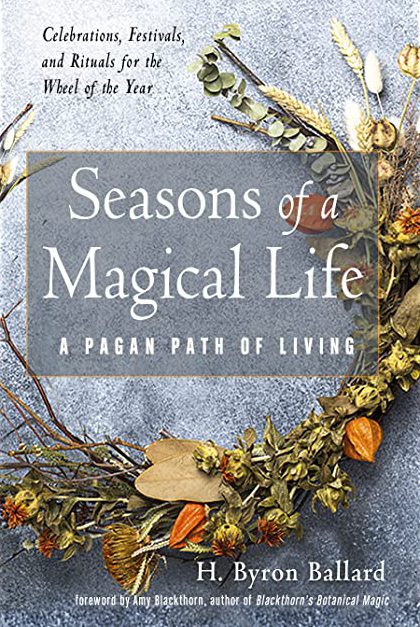 "Seasons of a Magical Life"
by H. Byron Ballard
Come Meet Byron and have her sign your book!
(Copies of her latest book and others will be available for purchase)
4:30 pm
This book is an invitation to modern Pagans to return to a simpler and quieter time, either literally or virtually, through letters from a small forest-farm in the southern highlands of the Appalachian Mountains. It looks at the agricultural year as a starting space for a deepening of Earth-centered spirituality. Borrowing a conceit from English writer Dor­othy Hartley, the book begins with a set of back-stories to ease the reader into a place between the toil of the pre-Industrial Era and the uncertainly of the modern one, a place where the fast-moving stress of modern life can be affected by a better connection not only to the natural world but to the elegant expression of the year as communicated through seasonal festivals and celebrations. The essays are set in the beginning, not only to give the reader a map of our journey but to also introduce some ideas that will better inform that journey.
The back-stories form the legend of the map, as well as the compass rose. The chapters are broken into four sea­sons, with the Quarter Days a highlight within each, and include simple skills that accompany each marker in the year. The book wraps up with a chapter on spiritual and physical immersion into these seasons whether the reader finds herself on a farm in the country, in a condo in the city, or at any place in between.
An invitation to return to a simpler time of earth-based spirituality and ritual living, through writings from a small forest-farm in the Appalachian Highlands.
H. Byron Ballard is a teacher, folklorist, and writer. She is senior priestess and co-founder of Mother Grove Goddess Temple and the Coalition of Earth Religions/CERES, both in Asheville, North Carolina, and writes as The Village Witch for Witches and Pagans Magazine, where she is also a regular columnist. Visit her at myvillagewitch.wordpress.com.
Other Books by Byron