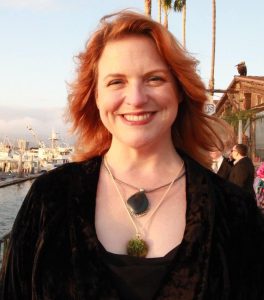 E.B. McDonald has been reading tarot professionally for nearly 30 years and the runes (Elder Futhark) for 20. Her path is neo-Druidic and she is a member of A Druid Fellowship (
www.ADF.org
) ADF is committed to providing public ritual for the eight 'high' days of the modern pagan calendar. E.B. Led a 'grove' in Southern California that offered public pan-Indo-European rituals at a Unitarian Church in Pasadena, CA. Learning eventually that the life of a Druid Priest would not actually sustain her in Los Angeles, E.B. Started working for the Hollywood Chamber of Commerce as the VP of Tourism & Events – an odyssey that would lead her to a variety of high profile positions that culminated in a Cancer Diagnosis. 
As it often does, cancer changed her perspective on life and she created 'Weekday Spirit' – a brand that strives to create sparks of spirit in the midst of the mundane. Her readings offer practical guidance in recognizing and connecting to the sacred in any place at any given moment. You'll never leave E.B.'s table without a bit of 'homework' to encourage (or ease) your soul when you aren't surrounded by soothing sounds, colors and scents.
Please check the Event Calendar for dates she is available.
$40 for 30 minute session, cash
$60 for 45 minute session, cash
$80 for 60 minute session, cash

Drop in or call the store at (828) 687-1193 for an appointment!