Date: Saturday Nov 19th
Time: 4:00 – 5:30 PM
Ticket Price: $30
Click here to Purchase Tickets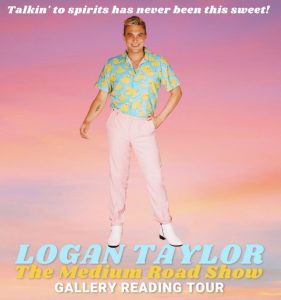 "THE MEDIUM ROAD SHOW" gallery-style reading will be an evening of inspiration, lots of laughter and healing messages from Spirit. Logan always incorporates messages from our angels and loved ones that have crossed over to the other side. Audience members will hear stories about Logan's personal experiences with Spirit and will have the opportunity to be read in a group setting. Logan's welcoming and charismatic demeanor will have everyone smiling and enjoying themselves! Whether you receive a reading or not, a night with Logan Taylor is always a one-of-a-kind, life-changing experience! 
NOTE: Purchasing a ticket does not guarantee a reading from Logan Taylor
Logan Taylor is a southern gentleman that has been redefining the term "medium" for almost a decade. Having read thousands of people from all over the world over his seven year career, he has developed a reputation as one of the most accurate (and entertaining) intuitives of his generation. His homebase is McMinnville, TN, where he works full-time as a psychic medium. Since Logan's first 'Bible Belt Medium' Tour in 2017, he has appeared on TV and radio and continues to share his undeniable gifts with everyone he meets.