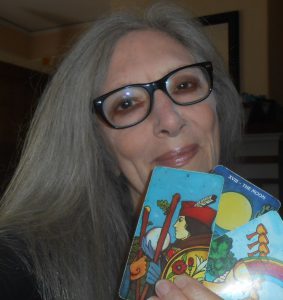 Allison Frank, Asheville Oracle
Intuitive since birth, Allison is a sought-after Tarot reader and teacher with more than 40 years experience as a healer. Bringing spiritual service to humanity is her primary focus and her caring, down-to-earth approach helps people find answers to their every day concerns. Her style is straightforward and she conveys other-dimensional information in a clear, concise way.
Using Tarot as the main method for her psychic abilities, her spreads are designed to uncover answers about relationships, family, business and of course, your spiritual path. Allison's reading are unique in that she has the ability, in just one sitting, to transform your goals and dreams into an action plan for success.
People are amazed at the accuracy of her readings  which is testament to the fact that Tarot cards provide a direct connection to information downloaded from the other realms.  A Tarot experience with Allison will reveal what is most important to understand at the time of the reading and will provide immense comfort and wisdom for each and every seeker.
Please check the Event Calendar for dates she is available.
$40 for 30 minute session, cash
$60 for 45 minute session, cash
$80 for 60 minute session, cash
Drop in or call the store at (828) 687-1193 for an appointment!