Saturday  November, 18th
11:30 am – 12:30 pm
Free Event
Sustain Yourself Oracle: Using Earth's Wisdom for Personal Transformation and Renewal
An experiential introduction; you will explore Gaia's wisdom and how to live in concert with her natural cycles for health, happiness and regeneration with this new oracle system featuring:
Stunning collage images of nature, the elements, and the animal kingdom encompassing all life on Earth—flora, fauna, minerals, and human conditions—all in kaleidoscopic array.
Aspects of daily life, states of being, natural vistas, and astronomical phenomena that speak to the need to care for the planet as well as the self.
JAMES WANLESS, PH.D., is the Creator of the "best-selling" VOYAGER TAROT Deck and of Way of the Great Oracle; Strategic Intuition for the 21st Century; Voyager – DIY Mindfulness Psychology;  and Intuition@Work.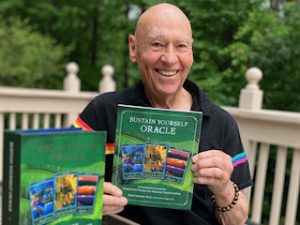 James Wanless is known as "DR. RE" for Re-Inventing himself as pioneer of Renew-ability by his SUSTAIN YOURSELF ORACLE book and deck.  In this "Eco-Deck," he eloquently presents the sustainability principles of Nature.  At 80 years young, this dynamic educator and artist offers his teachings in-person and online to individuals as a counselor and to corporations as a coach and creativity consultant.  He has authored books: Sustainable Life: The New Success; Nature's 101 Secrets of Success; and Re-New!
A noted futurist and keynote speaker, Dr. Wanless travels the world motivating his audiences to evolve their destiny for living long, well, and whole.
James can be found at jamesmwanless@gmail.com  and through his website JamesWanlessOracle.com. He presently lives in the Pisgah National Forest, Brevard, NC.