Date: September 23, 2023
Time: 12:00 – 2:00 p.m.
Price: $15.00
Learn Tarot and Share Your Wisdom
Presented by Allison Frank of Asheville Oracle
This Tarot class is a hands-on approach for getting maximum results when working with your cards. The 2-hour workshop provides the guidance you need to perform in-depth readings for
yourself, friends and clients no matter what your skill level. It is a comprehensive overview of why Tarot cards work, how to choose a deck, tarot vs. oracle decks, intuition and ethics, and
the language of symbols. If you've always wanted more instruction about interpreting the different spreads and how to plug your own intuition into the process, this the class for you.
My purpose in teaching this class is to empower you to work with these magical symbols and to be of service in the world. You will immediately gain reading confidence and you do not have to be psychic in order for a reading to be accurate. No pre registration required!
____________________________________________________________________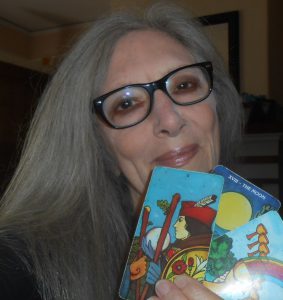 Intuitive since birth, Allison is a sought after reader and teacher with more than 40 years experience. Bringing spiritual service to humanity is her primary focus and her caring, down to earth approach helps people find answers to every day concerns. Her straightforward style conveys information in a clear, concise way.
Using tarot with her psychic abilities, Allison uncovers answers about relationships, family, business and your spiritual path. Her readings can transform your goals and dreams into an action plan for success.
Website: Asheville Oracle