On Saturday, February 2nd, 2013, we held ceremony for Enlivening our new Labyrinth of Divine God and Goddess.
Many, many thanks to Donna Askew and Sam Richardson for their incredibly hard work,
generous contribution, and dedication in creating our new Labyrinth!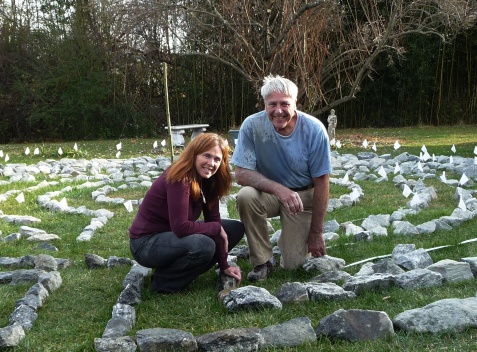 The night of our celebration we were blessed with many Spirit Beings: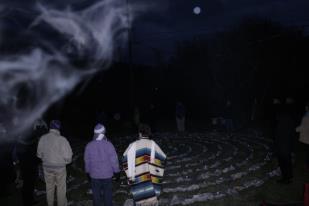 We welcome you to walk our beautiful, sacred Labyrinth:

Donna Askew, who graciously co-created our Labyrinth with Sam Richardson, shared this:
This Labyrinth was called into the 3rd Dimension by 13th Dimensional Beings.  The Human Co-Created Manifestation is in Honor of All Living Beings.
The Winter Solstice Healing Grid is buried in the center of this Labyrinth and hundreds of small crystals are buried within the rocks.
We humbly provide a space for all to visit and share in the frequency band that has been co-created to hold this sacred
Labyrinths can be used as walking meditation/prayer healing modalities.  As we walk in clockwise we repeat a prayer or request out loud and create an energetic hologram of vibrational intent. Once we reach the center, we stand in silence for a moment as the energy slows down and achieves a balance.  As we walk out counter clockwise we are silent as we are sending the energy in the opposite direction to once again find a balance.  We have just created a Frequency Band of Our Intent.
We invite you to participate at whatever level you are comfortable with.  We are honored to have you at our Labyrinth!
For a suggested prayer to use while walking the Labyrinth, click here.