Come be a part of a mind expanding hour of immersive sonic exploration as we journey deep within the vast inner realms of Infinite Mind!
Simon Samadhi is a lifelong musician and lover of sound. He has been on a path of self development and inner exploration for over 20 years, during which he has explored many different modalities, including learning Reiki, meditation, and working with plant medicines. During these explorations he has cultivated a deep love and understanding of the healing and medicinal qualities of sound, that seems to be intimately entwined at a core level within every modality he has studied.
Over the years he has learned how to play many instruments, including guitar, Didgeridoos, Native American style flutes, Guzheng, gongs, crystal bowls, and more. Simon also channels unique vocals and sings using ethereal overtones during his meditative sound sessions. These sonic experiences are known to promote relaxation, healing and wellness on many levels from the physical to the psychological, including the processing and release of stuck energy in a similar fashion to working with psychedelic plant medicines, but with no substance required other than your open ears and open mind!
You quite literally need do nothing during this sound journey. Comfortable mats, pillows, and blankets are all provided and you are invited to simply BE!
***************************************************************************************************************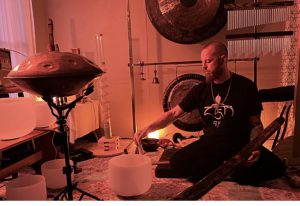 Event: Saturday June 18th
Time: 12 Noon
Tickets: $25
Get Advance Tickets: HERE