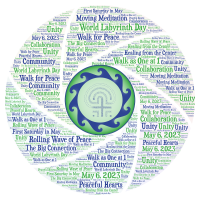 World Labyrinth Day: Saturday, May 6, 2023
tes you to join in celebrating World Labyrinth Day on Saturday, May 6, 2023. Every year on the first Saturday in May thousands of people around the world participate in World Labyrinth Day as a moving meditation for world peace and shared appreciation of the labyrinth experience.
Walk as One at 1: On this 15th annual World Labyrinth Day (WLD), as in previous years, many will walk a labyrinth at 1:00 p.m. local time creating a unified rolling wave of peaceful energy passing from one time zone to the next around the globe. There are many other ways to participate as well!
Check out our WLD 2022 video highlighting global participation and the impact of World Labyrinth Day!
To participate in the Labyrinth research project please register here
ABOUT THE CV Labyrinth:  The labyrinth at Crystal Visions was built by our friends Sam Richardson, Donna Askew and other volunteers in 2012.  It is designed like the medieval labyrinth at Chartres Cathedral in France. Sam dowsed the locations and cut the stones to build the labyrinth. It was initiated on December, 21 2012. The labyrinth is open Monday – Saturday 11 am – 6 pm