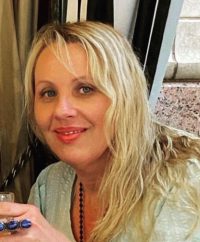 Dianne has spent over a decade studying and practicing the healing arts. She is an Intuitive reader of Tarot/ Oracle cards, Energy worker (Access Bars), Ayurveda Wellness Counselor and Intuitive Chef.
Her professional journey into Healing began in Austin, Texas, where she attended and later taught at a Health Supportive Culinary School.  It was in this environment when she started to research the connections between food and illness and the role of negative and positive energies in the process of cooking. Upon moving to Asheville, she enrolled in Ayurveda courses and became an Ayurveda Wellness Counselor, adding herb knowledge and ancient wellness practices to her mastery of food. Dianne noticed the emergence of a pattern in that she was drawn to the four elements (Fire, Water, Earth & Air) across multiple modalities (Tarot, Astrology, Ayurveda, Eastern Medicine, Medicine Wheel, Etc.)  and how they all fit together in understanding the connection among body, mind, and soul and how different types of energy affects us in our day-to-day life.
Dianne loves to share her gifts and help people connect to their inner self and move into a sense of balance.
$40 for 30 minute session, cash.
Drop in or call (828) 687-1193 for an appointment!