Celebration and Blessing of the Animals (no cost)
November 9, 2019 @ 10:00 am

-

12:00 pm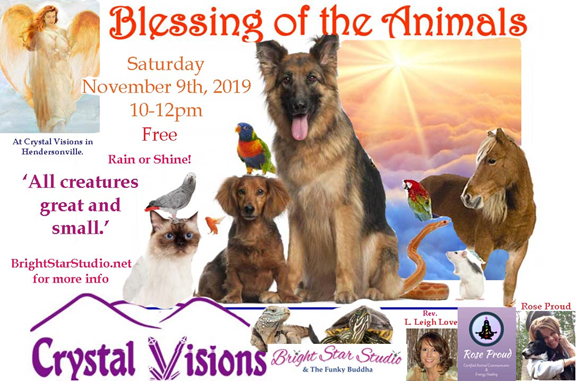 Celebration and Blessing of our Animal Companions
Animals are invited to join and bring their people to Crystal Visions, Saturday, November 9th from 10-12 pm. Free. Join the Pet Honoring Movement.
All creatures, great and small and their human companions are invited. Our pets give us so much…let's honor them! Oh yes! This is an all faith, non-denominational event. Love is love. Join us for this wonderful event honoring our loving animal companions.
Join officiating member Rev. L. Leigh Love and Rose Proud as they bring in the awesome energy of St. Francis of Assisi for a symbolic, healing and loving blessing of your animals. Bring your well-behaved and leashed/crated pets, or their photos (if they cannot attend), to this wonderful service devoted to your fur-loves who have opened your heart and enhanced your life.
The service will include a group as well as individual animal blessings. Unite with families, canines, and other creatures great and small, for the special opportunity to have your pets blessed. A Pet Memorial Wall is available to post pictures of your departed pets.
Event is Rain or Shine! If the weather is good, the event will take place outdoors. If inclement weather, it will be held on the porch. This is a way of serving the community and extending love, honor and importance to our animal family. Together we can share in the task of being good stewards of creation and those creatures entrusted to our care.
Please help us spread the word about this event through telling friends and family…and though posting on Social Media!
Plus, attendees will receive a free St. Francis of Assisi charm! (Sponsored by Bright Star Studio).
After the service, Certified Animal Communicator, Rose Proud will be offering mini-animal communication sessions for a donation to Boxer Butts & Other Mutts. L. Leigh Love will be offering mini healing Reiki Sessions (Animal or Person) for a donation to the Appalachian Wildlife Refuge. Mini Sessions will be 15 minutes each. Limited number of these available due to time. You can sign up in advanced for these.
For more information, to volunteer to help out for this event or to sign up for a mini Animal Communication Session with Rose Proud or mini Reiki session (Animal or Person) with L. Leigh Love, please contact Bright Star Studio at 828.450.4424 or Leigh@BrightStarStudio.net or visit BrightStarStudio.net. For more info on Rose Proud please visit RoseProud.com