SORRY – this event had to be canceled.  We hope to re-schedule it soon!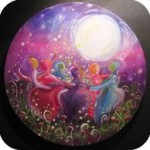 Share the journey with other Heart-centered women!
We will gather as heart-centered women and let Spirit and Soul guide us! Sharing enlightening conversation, a guided meditation and channeled messages from the Angels, we will celebrate this beautiful journey together!
Nana Hendricks Collins is an internationally known Visionary-Channel-Medium. Founder of the Earth Spirit Center, she has helped thousands of people through her classes, retreats and private channeling sessions. Her passion is working with spirit, especially the Angels and Ascended Beings of Light. She allows the Soul to guide! She has been devoted to working with women for over 11 years and believes there is a great power created when women come together in a circle with a unified intention of cultivating love and light. She leads with joy and grace believing we are all one, celebrating our unity and the ascension into a new day!
7:00 – 8:30 PM
Suggested Love Donation – $11 – ?