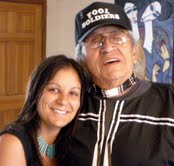 Join us for an evening of learning and healing based on the Lakota medicine teachings. Niccole will guide you through an overview of the traditional teachings and ways of healing associated with the American First Nations people. The complete teachings will be offered in a Medicine Walk Retreat in November 9-11 2012 in Highland North Carolina.
This event is a fundraiser for the Cheyenne River Sioux Reservation located in Eagle Butte, South Dakota. Niccole's participation at Sun Dance this July with teacher Harry Charger, an 82-year-old Sun Dance War Chief was her sixth time supporting this sacred healing tradition. The people of the Cheyenne River Sioux Reservation need much to support to counterbalance poverty, sickness and lack of supplies to live a healthy life. The Circle of Creative Woman is a co-created sacred container for women in their spiritual endeavors through creative expression, being receptive to the lineage of knowledge and serving the greater community.
Niccole Toral is an earth-based curandera (healer) who has woven her North and South American heritage to create an integrative approach to personal and collective transformation. Niccole studied and apprenticed with indigenous healers from Mexico, the highlands of the Andes, and North American First Nations. She underwent intense spiritual initiations in these traditions, which became the tapestry for her approaches to healing.
Some of her EarthBased Traditions include Vision Quest, a Wilderness Rites of Passage, the Andean cosmology of the Q'eros, and the Native American ceremonies of the Lakota.
Niccole holds a master's degree in Transpersonal Counseling and Consciousness from Southwestern College in Santa Fe, New Mexico and is a Licensed Professional Counselor and Supervisor. She lives in Asheville, NC.
Please RSVP to this event at www.circleofcreativewomen.com
11:00 AM-12:30 PM
$10 or Free with Donation of school supplies, books, towels, new or gently used t-shirts and/or shoes of all sizes. All donations will be shipped to South Dakota.