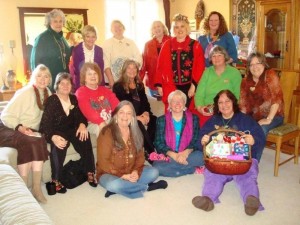 10 AM – 12 Noon every Friday at Crystal Visions
We have meditation of 10 – 15 minutes and then we have our program with lively discussion.
Everyone is most welcome!
Donations to cover the use of the space are greatly appreciated.
Please note: Our programs are subject to change without notice! Contact Aurora (828.658.3362) if you would like to confirm.
May 3:  Sharing and Planning with Toni Cole
Bring your current growing-edge metaphysical news or experiences to share – anything  that's uplifting.
Facilitator:  Toni Cole
May 10:  Leon Miller:  Achieving Proper Bodily Health and Balance
Leon Miller is a graduate of Iowa Medical School. For over thirty years he has used his education and farming experience to formulate food and supplements to produce and keep livestock healthy.
Since 2006 he has applied his expertise to formulas for people. His products are sold in over thirty states with profound wellness experiences.  He has the ability to look into the body to discern what is needed and gives guidance.  His products are designed to "fix the problem" and never to "mask the system."  Leon is always available for phone consultations with people using his products.
Facilitator:  Aurora Fox
May 17:  Ann Running Wolf:  Joyful, Intuitive Drumming and Movement
Bring your instruments, dr4ums, or just yourself to a spirit-guided, high energy session with the Masters, Native Americans, your Guides and other High Beings in spirit.  Program includes spirit messages from anyone through whom Spirit chooses to speak.
Facilitator:  Ann Running Wolf
May 24:  Lynn Odekirk:   The Power of Soul
Your Soul has the power to boost your energy, vitality, stamina and immunity.  It can prolong your life. It can heal, rejuvenate and transform every aspect of your life including relationships and finances. Learn how to connect with your own Soul, or any Soul in the Soul world.  Receive healing blessings for any aspect of your life.  Learn practices that will transform your health, relationships, finances and more.  For the past 30 years, it has been Lynn's desire to serve in the expansion of human consciousness. She is a certified Advanced Rolfer, and a Reiki Master. Also, she is  trained in cranial Sacral, and Polarity Therapy and has studied Continuum for 7 years and taught it for 2 years. Lynn is currently a student of Dr. and Master Zhi Gang Sha. She says, "I have found that the simplest teachings are the most profound and will greatly enhance anyone's Soul Journey.  I am honored to share The Power of Soul with you."
Facilitator:  Aurora Fox
May 31:  A Day at the Lake with Christianna
Meet at 10:30 at the beautiful home and lake of Christianna Morgan for fun, sharing, and a pot luck.  Bring food to share for lunch, your swim suit if you like for a brisk swim, towel, chair, sunscreen, a "noodle" to float on, and an uplifting bit of news or experience to share.  For Directions call Aurora, 828.658.3362.