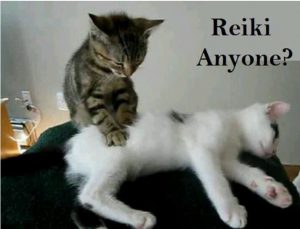 Experience the GOOD VIBRATIONS of a gentle Reiki healing session to start the New Year off right.
The body's natural state is balance. During the 20-minute Reiki session, the recipient relaxes on a treatment table, while Reiki energy flows from the practitioner's hands into the recipient. Body, mind and spirit gently come into a balanced state of well-being.
Reiki is not a religion, or a medical treatment. It is simply a gentle flow of energy, which can leave the recipient relaxed, refreshed and peaceful. It is currently offered in more than 800 hospitals in the US, and some MDs even use Reiki healers in their operating rooms.
Each 20-minute session is $20, with all proceeds donated to Charley's Angels Animal Rescue in Fletcher.
ANY LEVEL of Reiki practitioner interested in volunteering for the afternoon, Jonna Rae Bartges at jonnarae@bartges.com by January 20. Call Crystal Visions and make your appointment today!