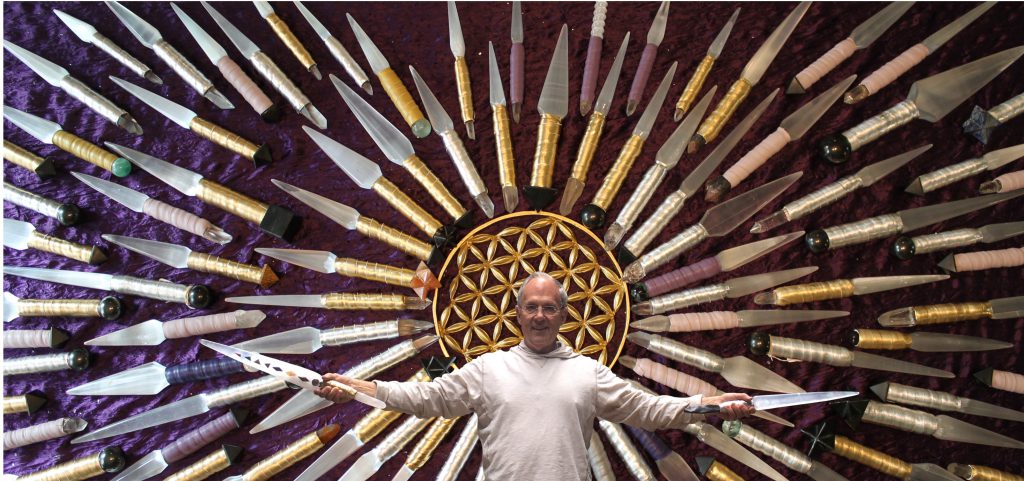 Light Worker Training
Selenite Swords of Light
3 Day Workshop
This workshop will be conducted by Tom Ledder the creator of the Selenite Sword of Light and the Crystalline ascension Tools. Assisting Tom will be Maryke Del Castillo, Light Language Specialist and Master Lightworker from Australia. Gail Hagenbuch is the host for this workshop.
First Day (Friday, May 15th: 5:30-9:30 pm): Processes and Techniques
Group Heart Activation with the Selenite Swords of Light
Understanding the Alchemy in the Selenite Swords of Light
You will learn techniques to activate, clear and balance the chakras, meridians, and subtle bodies. Using sound to magnify the work with the Swords of Light
Learn the powerful Light Body Activation process with the Selenite Swords of Light to bring in more light to the physical body.
Activation of Divine Feminine Energies to assist personal healing and the recalibration of the planet
Second Day (Saturday, May 16th: 10:00-5:00 pm): Removal of Non-Beneficial Energies and New Processes
Group Heart Activation
Light Body Rounding powerful procedure to raise your light quotient
Learn to use the Crystalline Magnet Dowsing Pendulum for Yes and No questions and removing non-beneficial energies from ourselves, our companies, and project
Time travel back to when you worked in the Lemuria, Atlantis, or Egypt in the temples and healing centers of those times. Regain lost healing techniques from those times in the past
Maryke will bring in new Energies from her recent trip to Egypt, The Giza Pyramid Activation, ISIS Temple Activations, Horus Activation
Maryke will teach the heart-based skills and techniques to unfold Light Language.
Third Day (Sunday, May 17th: 10:00-5:00 pm): Activations and Ceremonies
Group Heart Activation
You will learn a procedure of how to work on yourself plus a special new DNA process to activate the advance interdimensional qualities of your DNA.
One round Light Body Activation
Ankh and Selenite Sword of Light Training to bring the chakras to a higher geometric functioning using the first ever created Egyptian Crystal Matrix Ankh to work on bringing the Chakras to a higher geometric state, and transmute negative Karma. We will also be working on the activation of the Endocrine system and the organs of the body.
We will be doing a new Flower of Life and Emerald tablet activation to bring in the knowledge of Thoth and the secrets of the mortality. The regeneration tool of the flower of life will also be used in a direct activation of your DNA and interdimensional qualities.
Maryke will teach the heart-based skills and techniques to unfold Light Language.
We will activate the new Diamond Light frequency of Love for each person.
Maryke will bring in new Energies from her recent trip to Egypt, The Giza Pyramid Activation, ISIS Temple Activations, Horus Activation
There will also be a Light Body Activation with the newest Jaguar Swords of Light
As you can see this is going to be an extremely important workshop for all lightworkers to attend. We need to bring our energy Matrix, and our ability to work inter-dimensionally to a higher level of love and grace into our life and the planet. We will be working on elevating our chakras to a higher geometric function to assist in changing the world to a higher frequency and a higher light quotient.
SWORDS will be available to purchase: The most powerful Selenite Swords of Light, Crystalline Ankh, Crystalline Flower of Life, Isis Temple and the best processing pendulums ever created by Tom Ledder. This is a breakthrough that combines the ancient healing techniques from Lemuria, Atlantis, and Egypt for the first time.
Cost of 3 Day Training Program:
First Time Student
Friday Evening 5:30 pm to 9:30 pm (meal included)  $145       (Repeat Students $90)
Saturday 10:00 am to 5:00 pm (meal included)  $195                (Repeat Students $117)
Sunday 10:00 am to 5:00 pm (meal included)  $195                   (Repeat Students $117)
All Three days $35 discount for All 3 days – $500                        (Repeat Students $324)
(*note: all days include an organic vegetarian, vegan, gluten free meal with dessert & choice of meat, vegan protein options)
REGISTRATION:  https://www.seleniteswordmaker.com/event/3841/
Questions to Gail Hagenbuch gail@gailhagenbuch.com
SUPER CHARGE YOUR LIFE and TRANSFORM YOUR ENERGY MATRIX
Note: To those of you that have taken the light worker training program in the past there is a special offer of 40% off program fee. There is great value in repeating the course because each program brings in new energies based on the advancements of the selenite swords of light that I am making and the new programs that have been developed through the last year and tested out in fall workshops in Australia 2019. There is great value in upgrading your skill set as a lightweight worker. There will also be new products that I have developed over the 2019 to 2020 time frame which you would be able to take advantage of. The current state of our planet is in great need of more powerful light worker. We need more light, more love, more grace, and more gratitude on the planet and you can be of assistance in manifesting these qualities in your local environments.
Bio of Tom Ledder
Tom Ledder is the founder of Selenite Sword Maker LLC and is dedicated to bringing the knowledge and the Ascension tools of the Selenite Swords of Light out to the world. For the past 12 years Tom has been focused on the creation the Light Worker Training Program and the creation of powerful multi-dimensional, multiverse  energy tools; the Selenite Swords of Light, Ascension Rods and Ascension Staffs, the Flower of Life in crystallin form, the new crystallin Ankh, which are used around the world by energy workers, light workers, healers and acupuncturist. Tom has created a complete training program titled Light Worker Training and a certification program and he teaches these programs throughout the USA, Australia and Japan.  Tom has also established a subtle energy healing practice using the Swords of Light for Light in Ft Collins, Colorado.
Bio for Maryke DeCastillo
Maryke is an established light worker and has been working with the Selenite Swords of Light for the past six years. For the past five years Maryke a has been traveling with Tom Ledder doing workshops in Australia and most recently in the United States. She is an expert in teaching light language and has been doing that in Australia the US and Mexico. Maryke is very connected to the divine feminine beings and can bridge multiple dimensions of light. Maryke also does personal sessions which are called "Wonder Sessions" for individuals around the world both in the person and over the phone.