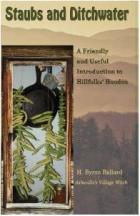 After years of pondering, Byron Ballard has finally written a primer for the kind of magic she practices. Driven to it by colleagues, friends and students, writing this little book is an act of stubborn devotion to a fading culture.
This deceptively simple system of folk magic has come down to modern Southern culture through the immigrants and natives who called these blue hills home.
Written in an easily accessible style and filled with insights and stories, Staubs and Ditchwater: a Friendly and Useful Introduction to Hillfolks Hoodoo is part memoir, part workbook.
H. Byron Ballard is Asheville's Village Witch and does workshops and lectures regionally. She was a featured speaker at the Sacred Space Conference in 2011 and is a popular teacher at the Southeast Women s Herb Conference and Pagan Unity Festival. This book includes Hillfolks Hoodoo and the Question of Cultural Strip-mining the paper she delivered at Harvard's 2006 conference Forging Folklore. Ballard serves as a ritualist and teacher for Mother Grove Goddess Temple in Asheville, NC